Tiny Tardis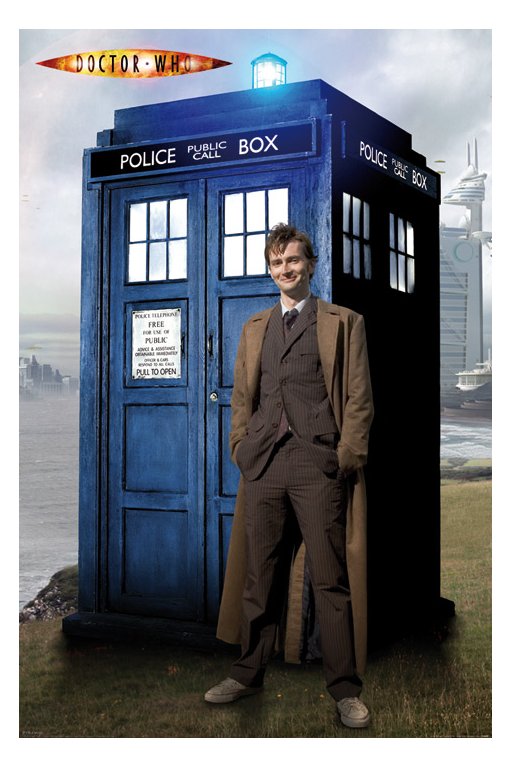 Image from: http://cdn-media.hollywood.com/images/l/doctor_who_tennant_tardis.jpg
A number of years ago the hubs and I became
Whovians
and haven't looked back. In fact since then our geekiness has grown to include other cult-classics but Dr. Who is still one of our favs.
And now, I've introduced our dog to our obsession:
Started: February 23, 2013 and Finished: March 10, 2013
I know what you are thinking... ANOTHER dog sweater?!?! I had to though. I have wanted to knit something in the likeness of the Tardis for a while and actually cast on for a pair of socks but realized I had a blue that was too dark. Then I figured I have been on a dog sweater kick so why not make one for Rosie?
I used the Tardis sock pattern from Keladry (link above) and modified the door panels. I sort of knit the dog sweater free-form so it would fit Rosie. When I'm not so lazy I'll pdf the notes I took while knitting and post them on here... again... when I'm not too lazy. :)
I ended up holding the black yarn double and the white yarn triple. Mostly because I was knitting from my stash and didn't want to purchase yarn for such a small amount. I'm still debating if I want to add sleeves to the arm holes.
If I were to knit this pattern again I think I might make some slight mods (to my own pattern) to make the door panels stand out more and to the collar/top of the Tardis area.
I do apologize for the slightly blurry pictures but it's so difficult to take a good picture of Rosie because she's always moving! Overall a cute and very fun project. I think I might order the correct blue to make a pair of Tardis socks for myself!